Youth Program Drop-In
 Spirit of the Children Society Youth Hub
NOT RUNNING AT THIS TIME
Iskwew Girls Group
Spirit of the Children Society Youth Hub
NOT RUNNING AT THIS TIME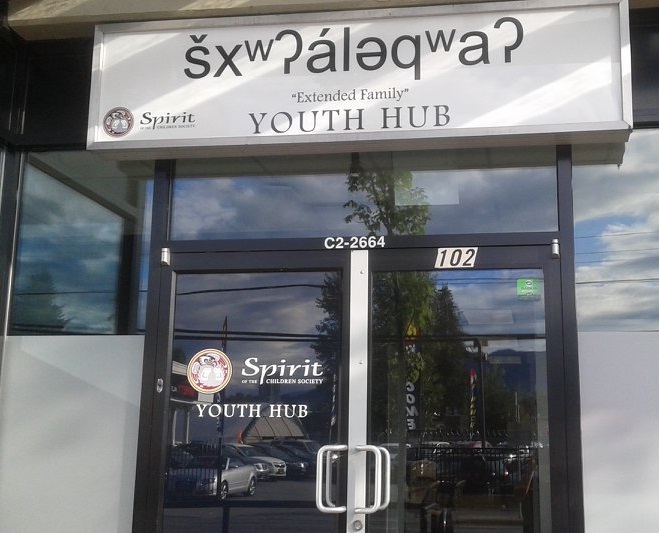 Spirit of the Children Society šxʷʔáləqʷaʔ ("Extended Family") Youth Hub
Youth hub is now closed, relocation in progress.
Napew Boys Group
NOT RUNNING AT THIS TIME
For Youth ages 10 to 15. This group is just for boys. We will meet in our Main Office in New Westminster (#201 – 768 Columbia Street). SOTCS will offer a caring and empowering setting where they can learn their Culture in a fun and insightful way. Outtings are fully covered (admission, transportation, etc.). Registration is ongoing and runs all year.
S.O.G.I Group
NOT RUNNING AT THIS TIME
Our objective is to provide a safe place to express yourself and meet new friends. This drop-in program will be a safe space for any SOGI youth to connect with other SOGI youth and share their stories and gain support in a group setting. By creating this environment of respect, this group will be building an understanding of the diverse society that we live in. This will give SOGI youth participants the opportunity to flourish.
Youth Enhancement Program
Our objective is to engage and empower youth that are in care, out of care, and at risk of coming into care by the Ministry of Children and Family Development, (MCFD). This enhancement program will assist the children / youth from the ages 7 to 12 (tweenies) 13 to 19 (youth) with culturally appropriate Rites of Passage for when they transition out of care.
Cultural Connections

Our Cultural Connections Worker will develop a permanency plan for each child under a Continuing Custody Order. The Worker will build a care plan in response to each child/youth's unique developmental and cultural needs. The CC Worker will focus on the child/youth's Indigenous identity and their connection to their home community. Working directly with the child, youth, caregivers, and families, an active and relevant cultural plan is not only developed, but its implementation is also supported. Our worker ensures that Permanency Plans are completed in a timely manner.
Our Cultural Connections Worker provides various services including:
Assisting in organizing family meetings, Talking Circles, Family Group Conferences or other forms of gatherings to develop short and long-term plans for Indigenous Children.
Facilitating children and youth's connections with local representatives of their Indigenous community as a way of providing mentoring and role modeling.
Engaging in collaborative community partnerships to promote cultural teachings and practice.
Providing a supportive professional relationships with the parents and extended family of the children in the program's care.
Child and Youth with Special Needs
The Child and Youth with Special Needs Guide (CYSN Guide) will work with aboriginal children and youth ages 6-19, and their families by assisting them with the planning process, providing information and advice on service access and availability, coordinating referrals to other agencies, and ensuring that services are delivered in a proactive, responsive, and culturally appropriate manner.